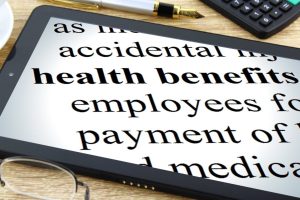 As a business owner, startup founder, or nonprofit leader, navigating the complexities of health insurance benefits can be daunting. A PEO (Professional Employer Organization) acts as a strategic partner to streamline your HR processes and provide comprehensive healthcare solutions. 
At Human Capital Concepts (HCC), we empower SMBs with tailored PEO services that make a tangible difference. A 2020 study by the Society for Human Resource Management (SHRM) found that 90% of survey respondents said healthcare is an extremely or very important employee benefit. Having a PEO to manage healthcare benefits can be the difference in attracting and retaining better talent for your team. 
How PEOs Transform Healthcare for Your Employees
To optimize your business, streamlining seamless operations is essential. A PEO brings a host of advantages that directly impact your organization's efficiency and bottom line. With a PEO like HCC, you have a wealth of HR expertise on your team so you can focus on managing your team and growing your business.
One of the most notable advantages is being able to offer more competitive health insurance and other benefits. A PEO partner gives you access to a larger benefits pool, which enhances your ability to provide competitive healthcare benefits to your employees. This is especially crucial for small and midsized businesses that might struggle to negotiate favorable rates on their own.
Additionally, PEOs provide a comprehensive solution for your human resources. From payroll and benefits to employment risk and compliance management, a PEO becomes an extension of your team, helping you navigate the complex landscape of HR.
Streamlining Healthcare Benefits: PEO vs. Insurance Broker
When it comes to providing healthcare benefits for your employees, you have options. Two common routes for SMBs are PEOs and insurance brokers. While insurance brokers can help you secure insurance plans, PEOs offer comprehensive HR services that go beyond health insurance. With a PEO, you're accessing a range of healthcare options as well as gaining a partner who manages other vital HR functions.
The Benefits of Partnering with an Insurance Broker for Healthcare Benefits
Insurance brokers specialize in sourcing and negotiating health insurance plans. While they can provide you with various health insurance options, their focus tends to be solely on insurance coverage. Your employees might have health insurance but may miss out on other valuable benefits that can enhance their overall job satisfaction. You may need to deal with multiple vendors for different benefits. You will likely need to handle compliance and other HR-related tasks independently or seek additional services to address these needs. Managing this administrative complexity requires you to coordinate with different parties for different aspects of your benefits package.
The Benefits of Partnering with a PEO for Healthcare Benefits
A PEO consolidates healthcare benefits under one umbrella. This simplifies benefits administration, making it easier for both you and your employees to manage. You have a single point of contact for all benefit-related inquiries, reducing confusion and streamlining communication.
PEOs often have dedicated HR professionals who specialize in healthcare benefits. They understand the intricacies of healthcare regulations, compliance, and plan options. With a PEO, you'll get a benefits package for your employees and access to our experts. This helps ensure alignment with your business goals and compliance with industry standards.
When you partner with a PEO, you gain access to a wide range of benefits, from health insurance and retirement plans to wellness programs and employee assistance services. The PEO enables care for your employee's health and well-being. Healthcare benefits contribute to their overall job satisfaction and productivity.
At HCC, we understand the unique demands of small and mid-sized businesses. That's why our PEO includes a simplified approach to healthcare benefits. Instead of dealing with multiple vendors and piecing together your benefits package, our PEO services consolidate everything under one umbrella. Plus, you'll have the administration and support to improve benefits utilization by your employees.
HR Support for Your Health Insurance Plans
Navigating the intricacies of health insurance can be daunting. While in-house HR teams might be knowledgeable in HR practices, they may lack the specialized expertise required to navigate the complex world of healthcare benefits and regulations. A PEO with dedicated healthcare benefits professionals can help your employees receive advice and support to make the most from healthcare benefits for your employees. A PEO can provide support and guidance that simplifies this process. 
At HCC, our benefits support enables your employees to understand and utilize the benefits of their healthcare plans. You'll have direct access to our benefits specialists who can answer questions and help your employees maximize their benefits. We're here to guide you through the details of healthcare, and other PEO services and their benefits. Our tailored approach and direct access to HR expertise help you navigate the ever-changing landscape of human resources with confidence.
Effortless HR Management with PEOs
Managing HR responsibilities requires an understanding of human resources regulations, compliance, and employee relations. By partnering with a PEO like HCC, you offload the complexities of HR management and focus on your core business solutions.
Our PEO services encompass everything from payroll processing and tax administration to employee training and performance management and more. This comprehensive approach ensures that your organization remains compliant and efficient. It frees up time and resources to concentrate on your services and your customers.
Understanding the healthcare benefits of partnering with a PEO is an important part of running your business. Better benefits make it easier to attract and retain the best talent for your organization. Ready to discover the advantages of a PEO for your business? Contact us today and let us help you with your HR processes, including exceptional healthcare benefits. Your employees will thank you.