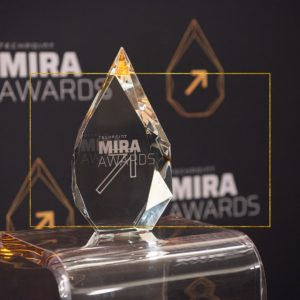 Human Capital Concepts has been actively supporting local business communities since our founding in 2007. Since 2015 we've been a supporter of TechPoint, serving, supporting, and honoring companies who engage, inspire, and build technology companies across Indiana. As a part of our TechPoint sponsorship, we are happy to be a Nominee Supporter for the 2022 Mira Awards – "Honoring the Best of Tech in Indiana". 
The Mira Awards has celebrated tech successes for 23 years, honoring the elite achievers who are participating in the 2022 awards. (Meet the nominees for the 23rd annual Mira Awards.) Join this year's celebration, taking place on Saturday, April 23 starting at 5:00 p.m. at the JW Marriott in downtown Indianapolis. Indiana's tech pros, leaders of industry, government, academia, and friends and family all gather for "Tech's Biggest Night."
Participating in the Mira Awards provides many benefits, including:
Attracting new customers, partnerships, and investors
Increasing revenue growth and business expansion opportunities
Boosting visibility to attract and retain better talent
Improving brand awareness across the media and industry
Providing well deserved recognition for your team and your company
From one Indiana company to another, we are proud to support the 2022 Mira Award nominees and winners, TechPoint companies, and local business communities across Indiana and throughout the country.
Let us know what we can do for you.